Pasadena still hates bikes. They make bike lanes to nowhere (Sierra Madre Villa – best bike lane in Pas, goes nowhere, gets driven in by cars, no enforcement. Also see Marengo for about a mile), refuse to pave bike lanes that are guaranteed pinch flats at any speed (Raymond), get buffaloed when they try to make real bike lanes (Orange Grove), and stripe the road to make drivers think there is a bike lane when there is no such thing.
Now they're posting up signs that actively encourage cyclists to either get doored, or dodge into traffic at dusk: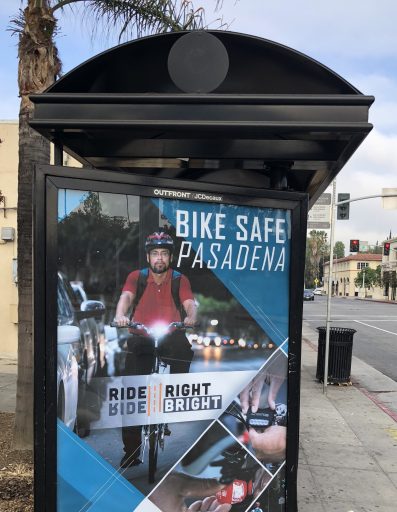 What other options does that fellow have if someone opens their door? It's hit the door, hit the deck, or swerve out into those lights behind him. Adios, bicycle dude. I guess it's his fault for not driving!
Not to mention that the vehicle code specifically allows cyclists to ride as far left as is safe, including taking the whole lane. "Ride Right" is bullshit. Take the lane, dude, but don't ride next to car doors.